The newest big volume 3d printer from Creality is arround the corner. Meet the CR-10 Max – a 450x450x470 mm build volume printer that offers huge improvements over the previous range of big volume 3d printers.
Creality is one of the pioneers in big cartesian printers. In 2016 two printers have been launched – the CR-10 S4 ( 400x400x400 mm build volume) and the CR-10 S5 ( 500x500x500 mm). They became popular among hobbyists, but despite of few upgrades over the time, there were issues related to the stability of the printer and the even/slow heating of the large bed.
With the latest CR-10 Max these issues seem resolved. The printer not only benefits from the latest extruder and control board developments we saw in CR-10s Pro, but also provides improved stability and a separate PSU for the heated bed (fast heating).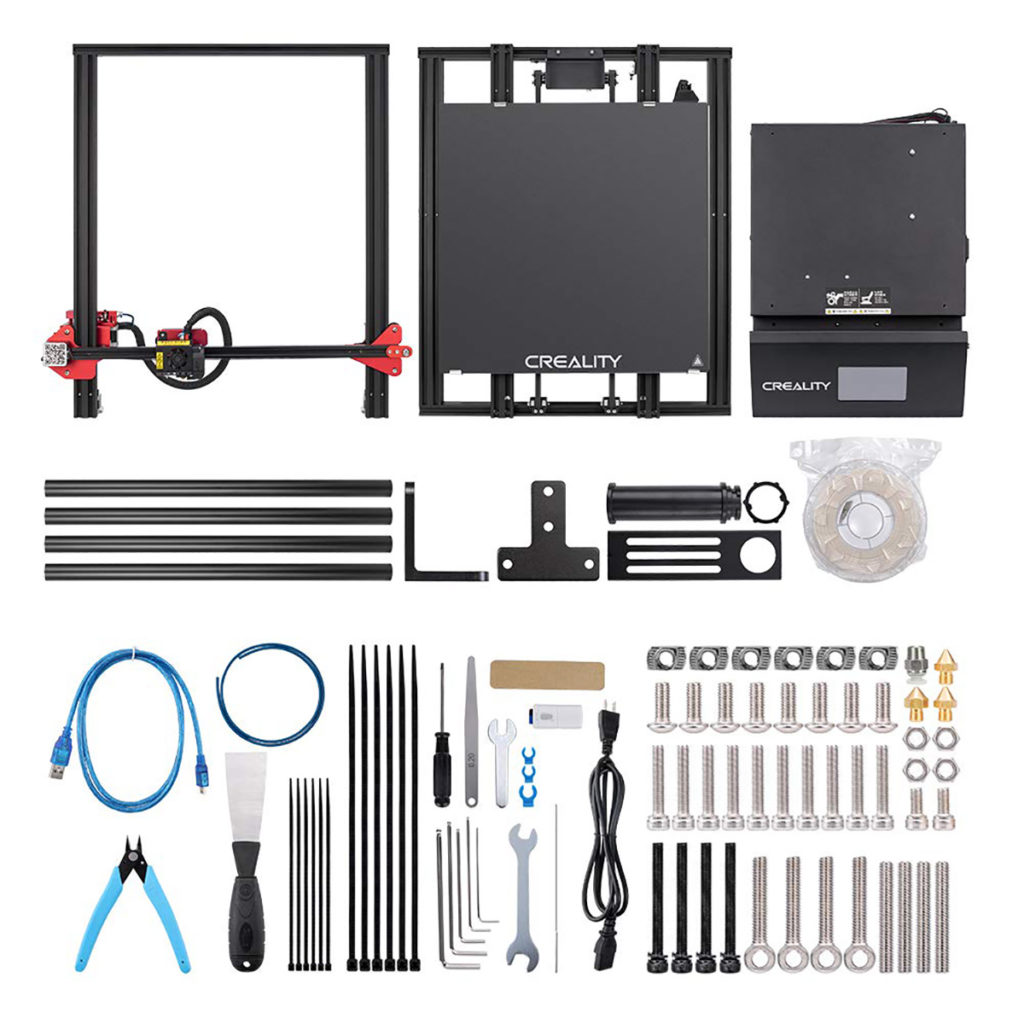 CR-10 Max
technical charecteristics
Molding technology: FDM
Printer type: Cartesian
Build volume: 450 x 450 x 470 mm
Heated bed: fast heating up to 100℃
Print speed: up to 150 mm/s
Z axis position precision: 0.001mm
XY axis position precision: 0.012mm
Frame: Aluminum 2020 and 2040 extrusions + golden triangle
Bowden extruder (Bondtech)
Max. print temperature: 250 ℃
Filament diameter: 1.75 mm
PSU for mother board 75W, 24V
input:100-240V AC, output: 24V
PSU for hot bed 750W, 24V,
input:100-240V AC, output: 24V
Screen: 4.3″ touch screen
Dedicated large printer
for PLA
The stock CR-10 Max is targeted to people looking to print large 3d models, figurines, and other decorative objects. It is optimised for printing PLA.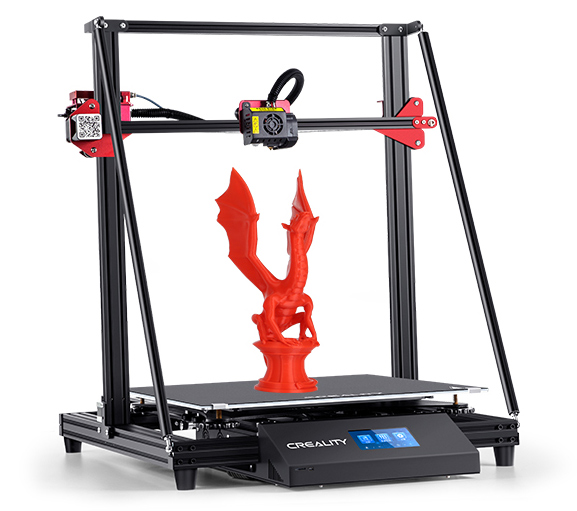 It doesn't mean though you can't print other filaments. Out of the box CR-10 Max will print just fine PETG, wood and metal composites, flex, Carbon PET and all other type of filaments that don't require bed temperatures above 100 ℃. Of course it is possible to do much more with some power mods, like upgrading the firmware and the hotend, building an enclosure, etc.
CR10 Max – the frame
Users of the previous generations of large Creality printers (S4 and S5) know that big volume requires a sturdy frame. CR-10 Max has now a reinforced frame (golden triangle construction with pull-rods) that minimises gantry and Z-axis vibrations, especialy when printing tall parts.
The heated bed
The build platform is sliding on two 2020 extrusions with V-weels and it has an improved dual belt motion. This eliminates the bed woble at higher speeds. The heating element was also redisigned and assures rapid heating-up (80 ℃ in 3 min). Most importantly, it provides even heating of the bed surface. It has a dedicated 750 W power supply at 24 V – a first-ever technical solution in budget 3d printers from Creality3d.
ABL with BLtouch-like sensor
Early pictures of the 2019 upgrade CR-10 Max show a BLtouch-like probe for auto bed leveling (ABL). At the time of writing it is unknown if it is an original BLtouch from Antclabs or a proprietary device. Whatever the case, these sensors assure great bed leveling regardless of the build surface type and are real improvement over the limited capacitive sensors used by Creality until now.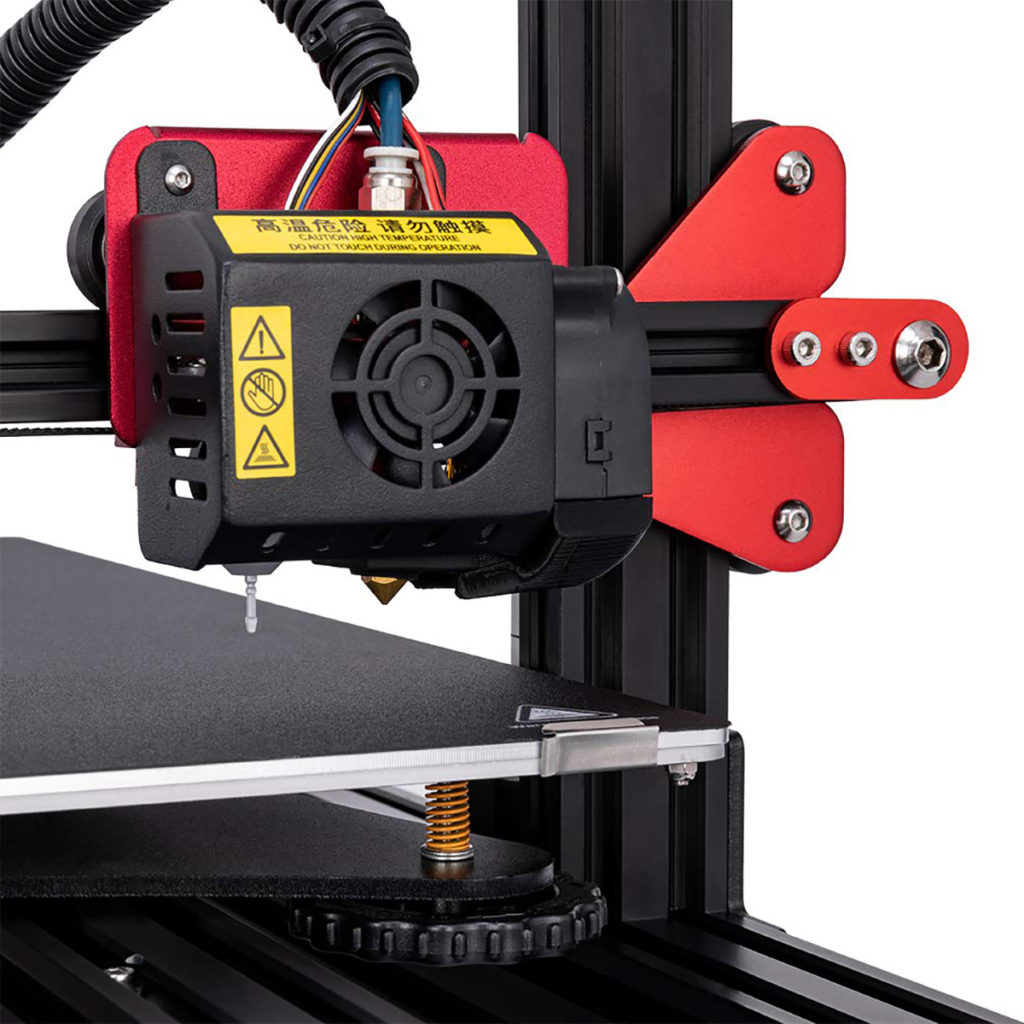 Quality extruder
with Bondtech drives
CR10 Max features the same bowden extruder as CR10s Pro. It uses Bondtech drives although it is not geared like the original Bondtech BMG dual drive or the clonned one from Trianglab. As in the Pro, the Teflon tube between the nozzle and the extruder is from Capricorn (up to 300 ℃).
Other
features
The upgraded CR-10 Max offers all the features you would expect from the latest budget 3d printers. It has a large 4.3″ touch screen, filament sensor and power outage resume function.
Is the new CR-10 Max for you?
If you want to print huge 3d models it is one of the best printers you can buy for under 1000 USD. The question you should ask yourself though is "How often will I print this big?". If printing human size models with fewer parts is what you want and you are OK with the cost – both in filament and energy – go for it.
On other hand if you are looking for an easily upgradable versatile printer for functional parts, wider support of filaments and easy integration in an enclosure, may be CR10s Pro or Ender 5 are better options.