Late 2018, Creality3D launched the Ender 5 – a cube like 3d printer positionned in the high-end of Ender range of budget 3d printers. This review is based on one of the first Ender 5 printers (control board V1.1.3) I could test. The latest 2019 products benefited from small hardware upgrades. Let see how it performs and does it worth its price of arround $ 350.
Ender-5 S1 is here
Check the latest Ender-5 printer
Ender5 technical specifications
Molding technology: FDM
Build volume: 220 x 220 x 300 mm
Heated bed: up to 125℃
Print speed: up to 180 mm/s
Print accuracy: ± 0.1 mm
Min. layer height: 0.1 – 0.3 mm
Frame: Aluminum 2020 and 2040 extrusions
Stock nozzle diameter: 0.4 mm
Max. print temperature: 260℃
Filament diameter: 1.75 mm
Connectivity: SD Card, USB
Voltage: 110-240V (50/60Hz) and 24V PSU output
What type of printer is
Ender5?
Don't be fouled by its look. Ender 5 is not a coreXY printer, nor a H-bot like the not-so-popular Ender 4. By the movement principle of the axis it should be classified as a cartesian 3d printer. It offers though some of the adventages of the coreXY printers, like:
Very solid cube frame
Stable Z-axis only movement of the build plate (improved accuracy by eliminating the belt-driven high inertia parts)

Ender 5 – the control box
Let's open the control box. Here you will find the same quality power supply used in the Ender 3 Pro – a 350 W Meanwell. It outputs 24V for the control board and the heated bed. Just like OrigianalPrusa, Creality switched from 12V to 24V PSU for the 3d printers launched after 2018. It allows to maintain more stable nozzle temperature, to heat the bed faster and to use the latest silent stepper drivers, like the TMC2208 in the CR-10s Pro.
The standard control board on the printer I've been given to test had no bootloader (similar to Ender 3). It was version 1.1.3. Creality however offers now a new silent board upgrade (with TMC2208 drivers – version 1.1.4) that does have a bootloader. I suppose this board is already integrated in newer 2019 3d printers.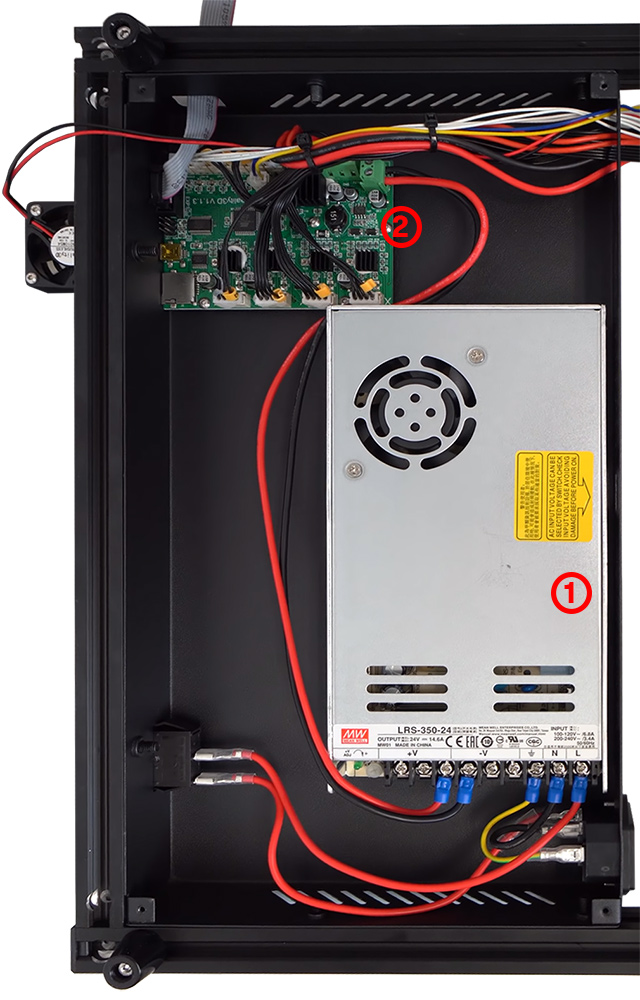 Aliexpress
Buy Ender 5 on Aliexpress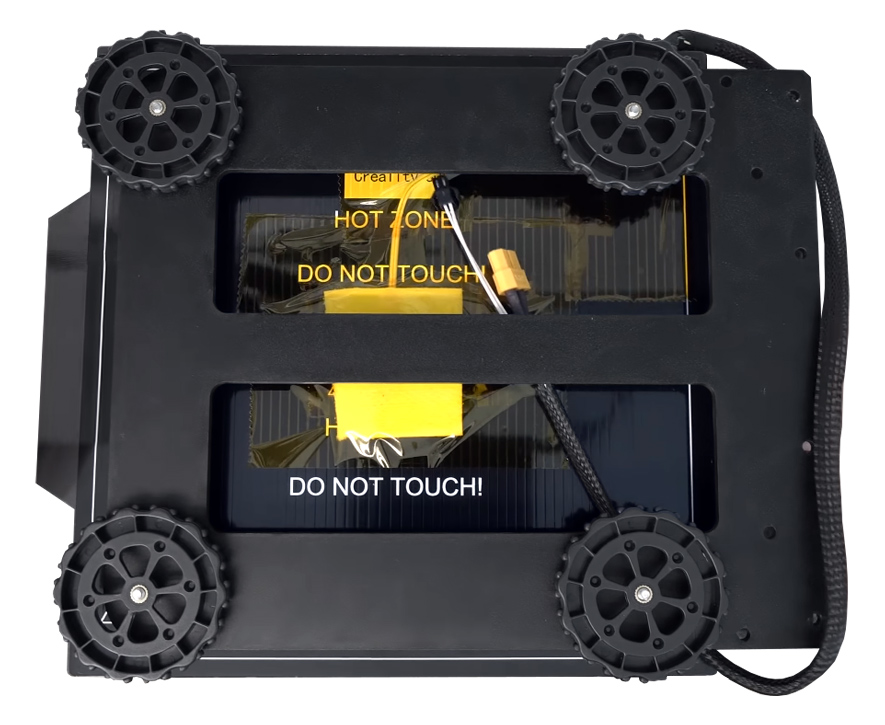 If your Ender 5 came with the old control board and you dont want to invest additional $40 for an upgraded board a cheap solution to improve the noise and the movement of the steppers (avoids also the "salmon skin" syndrome) would be to install TL smoothers.
They are connected between the board and the steppers and the installation is very easy.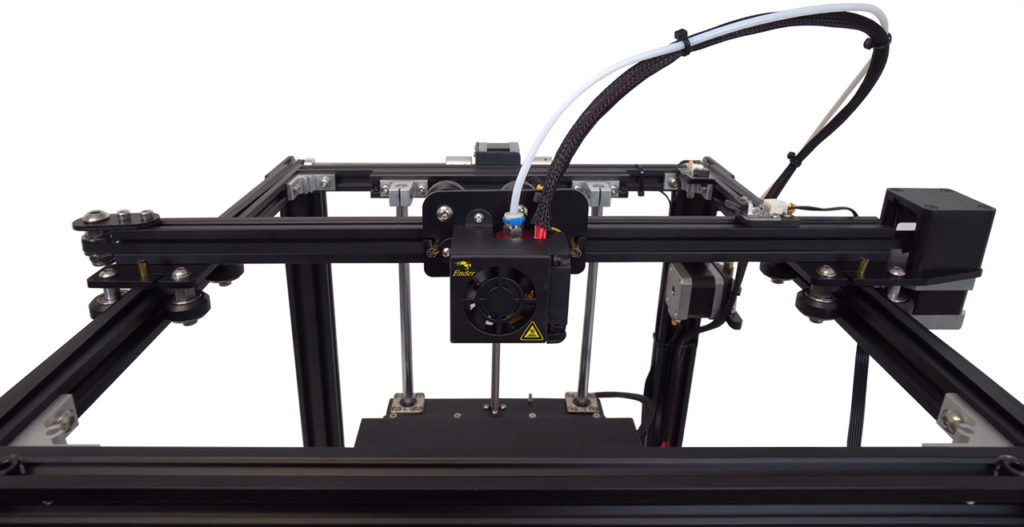 Ender 5 – printer assembly
Ender 5 is a DIY 3d printer kit. As for all Creality printers many components come already pre-assembled. Depending on your experience with 3d printers, the assembly will take between 20 min to 1 hour. There are 6 easy and well documented steps in the english user guide included in the box:
Mount the 4 vertical 2040 extrusions to the bottom frame (8 screws) ;
Mount the top frame (8 screws);
Mount the Z-axis on the botom and on the top frames (4 screws);
Mount the heated bed on the Z-axis (4 screws);
Mount the display, the extruder and the filament spool holder to the frame (6 screws);
Connect the cables.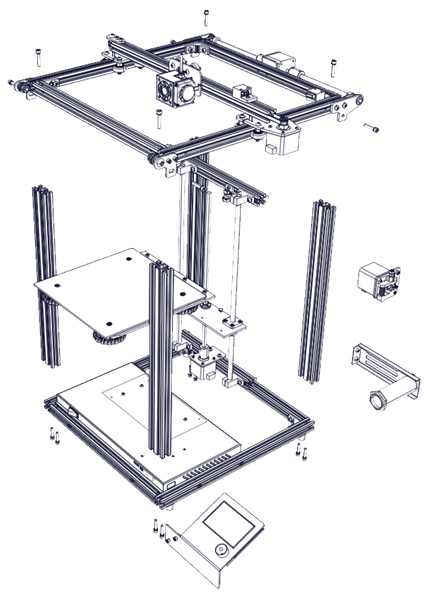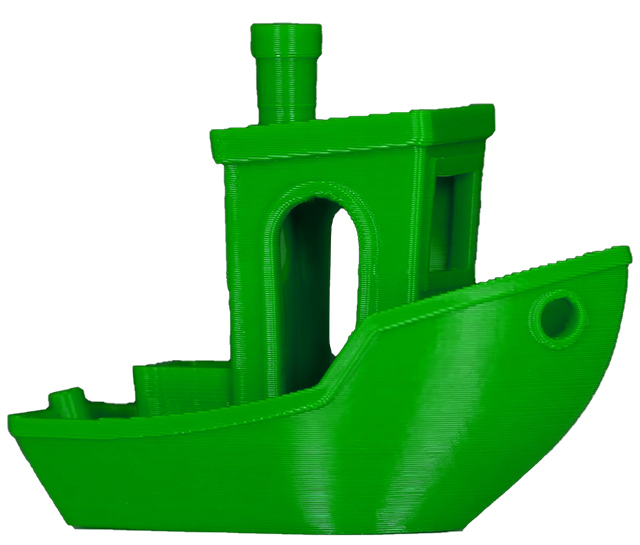 Ender 5 – print quality
I had limited time to test the Ender 5 by printing a benchy. The result was very satisfying – there were no layer artifacts of any kind by using my standard PLA profile in Simplify3D.
I couldn't test an ABS print because I didn't have a polycarbonate sheet with the right dimensions. The supplied magnetic build surface is perfect for PLA, but totally useless for ABS or any other filament that requires more than 80℃ heated bed or that shrinks when cooling down.
Upgrades for Ender 5
Ender 5 is open design like all other Creality printers. It means it can be easily upgraded and it shares already tons of additional improvements with Ender 3, Ender 3 Pro, CR-10 and other similar printers. Here are however some specific to this printer additions:
Heated bed supports
I personally find the heated bed platform quite stable with its dual 10 mm steel rods. It appears it can be improved further and there are already two nice designs on thingivers. So if you witness woble print one of these supports to get your Z-axis stiffer and vibrations proof.
Extruder upgrade for Ender 5
The stock bowden extruder that comes with Ender-5 is very basic, similar to CR10 (2016), CR-10s (2017) and Ender 3 (2017). It will serve you well for PLA/PETG with some limited maintenance like changing the drive gear from time to time. Forget about tough (Carbon PET) or flexible (Flex, TPE) filaments – the stock extruder is just not up to the task. Anyway, what do you expect from a budget machine? The good news is it can be easily upgraded with a BMG dual drive extruder. Buy the original one from Bondtech ($ 100) or a very reliable clone from trianglab ($ 32).
Note that you will need to install a custom version of the Marlin firmware in order to configure the BMG dual drive extruder.
Check also this design on Thingiverse for direct extruder mod on Ender 5 with the BMG dual drive.
Auto bed leveling (ABL) on Ender-5
Ender 5 has no auto bed leveling, but it is a good thing because the solutions from Creality use capacitive proximity sensor that doesn't provide reliable operation with all build surfaces.
If ABL is important for you, the widely adopted solution is to integrate an original BLtouch sensor from Antclabs . Like for the BMG extruder, you will need to tune the Marlin firmware for this type of ABL.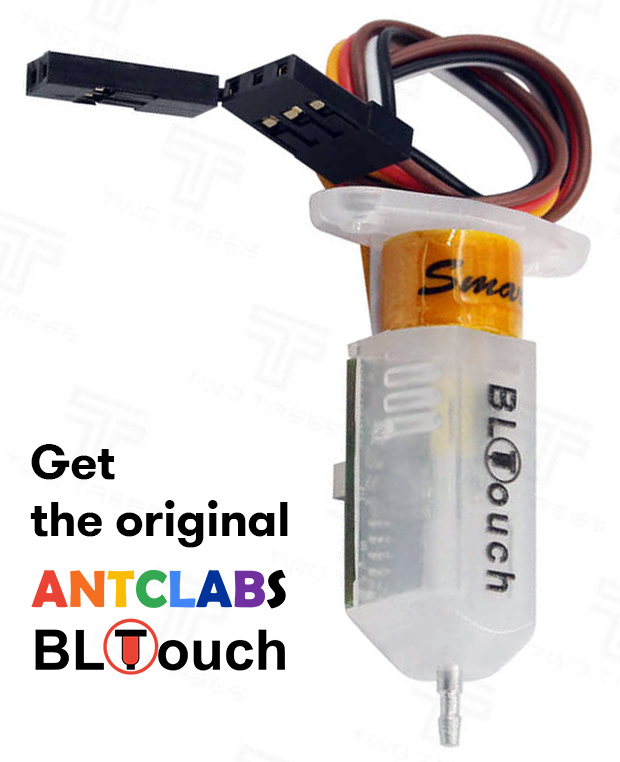 Final thoughts
Ender 5 is a basic low priced 3d printer with rigid frame. Out of the box it performs very well for printing PLA, which is the most used filament for 3d modeling. It has the potential to become a first class printer if you invest additional $100 to $150 in better extruder, control board and ABL.
So, if you intend to print toys and models or if you love to tinker, redesign and improve your equipment – go for it. At this price tag Ender-5 certainly worths it.
Aliexpress
Buy Ender 5 on Aliexpress
Video reviews