I am a fan of Voron Design – this company is developing fantastic, open-source DIY 3d printers. It is not a lifetime vow. I am always curious about what is coming from Prusa, Creality, and a few other companies. However, now that I've got some years of experience in 3d printing, I believe I can detect the best machine for me. Today it is a Voron.
Here is what I like:
Performance
Just enough, no useless features and marketing tricks
DIY, which allows me to master all mechanical and hardware aspects and assure the maintenance
Made by savvy people with a taste for design
Cool community and mods
Printer updates
Voron Zero (aka Voron0 or VZero)
VZero is the 3rd Voron printer I built. I have already the Voron 2.4 – a high-performance CoreXY printer and the Voron Switchwire.
Voron Zero is very small. The build plate is just 12 x 12 cm and you may wonder why building a printer with such a small print volume. For my printing usage the advantages are clear:
this will make an excellent secondary printer for smaller parts
it is a high-speed, precision CoreXY machine
the design is simplified – no need for an ABL for example for this small bed
energy efficient printer – power consumption is only 150W
TBH, in the beginning, I thought I'll use it occasionally as a backup machine. Truth is today it is my most used printer. It is just astonishing how many parts I was printing before on a 1KW machine, fit in the Voron0.
Voron0 – hardware, software, sourcing
V0.1 is the first major update of the initial Voron0 3d printer. It adds a direct printhead (called Afterburner Mini) and a more stable Z-axis stepper motor with an integrated lead screw. The heated bed is now relying on a 24 V silicone heater (the initial version had mains supplied 110/220 V heater through a Solid State Relay). This simplifies a lot of the wiring, by eliminating the SSR.
The printer is light – less than 6 kg and portable. To achieve this many components are downsized compared to a traditional printer:
1515 aluminum extrusions for the frame
NEMA14 steppers. Only the Z-stepper with integrated lead screw is a NEMA17
MGN07 linear rails
Small 150 W / 24 V power supply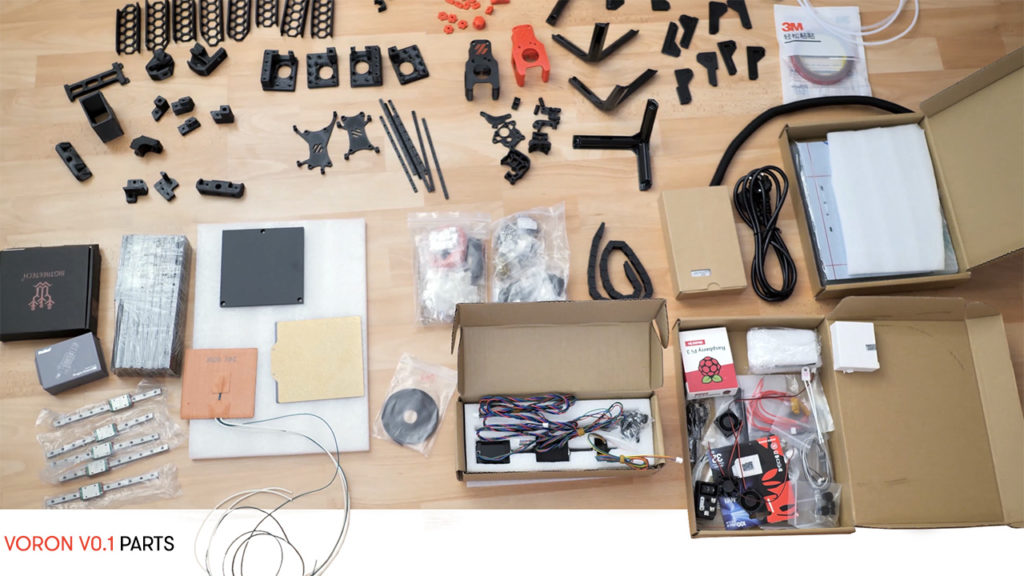 Control electronics are based on the small 32-bit SKR E3 mini V2 board combined with a Raspberry Pi running Klipper firmware. For a print server, you can choose between OctoPrint (my choice) or the newer Mainsail OS/Fluidd. All of them provide a web interface to control and monitor the print job over Ethernet/Wifi/Internet.
Sourcing the parts is relatively easy using the BOM configurator and sourcing guide provided by Voron Design. If you want to get the parts faster though, the best way is to buy them in a kit.
Here are some of the V0 kits available on Aliexpress: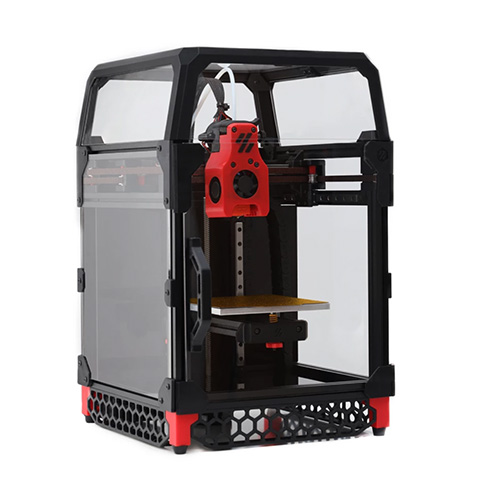 Getting a kit is a huge time saver, however, you don't have control over each component. For me the most important parts to look at are:
quality of the linear rails – Blurolls kit comes with genuine Hiwin rails;
quality of the motors – Blurolls wins again because it integrates the LDO motors kit for Voron0;
quality of the build platform – FYSETC states their aluminum plate is MIC-6;
is it the full kit? – Blurolls again, because they have the Voron0 display in the kit.
Conclusion
The VZero is a great second printer – fast, reliable, and energy efficient. It handles all small parts up to 12x12x12 cm. If you enclose it, it excels in printing ABS and PolyMax PC.
The assembly is time-consuming (took me about 3 days). It requires fine-tuning the belts, in order to achieve equal belt tension. Once set up though, it delivers constant printing quality. At the time of writing, I was using it daily for 2 months without changing anything from the initial setup.
I haven't needed to re-level the bed a second time – every first layer is still perfect.
Update Mar'22: This printer has proven its reliability. The only thing I changed for nearly 8 months of daily use is the Mini Afterburner. I replaced it with a bowden toolhead with a Voron M4 extruder, because the cable holder on the back broke 2 times.